Apa Perbedaan Microsoft Office 2013 dan Microsoft Office 365 ?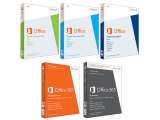 Kalau untuk digunakan di rumah,Home PC atau di laptop, Microsoft office 2013 yg paling mahal dan cocok untuk dipakai yaitu Microsoft Office 2013 Professional, sudah dilengkapi/terintegrasi dengan SkyDrive

Microsoft Office 365 itu untuk dipergunakan secara online dan terintegrasi oleh server (cloud) dan untuk dipergunakan di komputer perusahaan, pemerintahan, /kampus. Kalo PC/Laptop kamu kuat sihh terserah.. Dan kalian harus membayar biaya bulanan atau tahunan jika menggunakan Microsoft Office 365
pengalaman menggunakan office 2013:
Office 2013 lebih futuristk, ringan dibanding dengan versi Microsoft office sebelumnya,
Installernya lebih kecil dibandingkan versi-versi sebelumnya
Sementara penjelasan lengkapnya versi bahasa inggris dulu yaaaa, biar pada pinter
nanti kalo ada waktu bakalan diupdate

At a press event in July last year, Microsoft unveiled details about its next Office release. Surprisingly, at the time, the 'Office 2013' name wasn't brandished; instead, Microsoft preferred (even till now) to call it the 'new Office', the 'next Office', or the 'modern Office'. Inevitably, this has caused quite a bit of confusion. So what exactly is Office 365, and how is it different from Office 2013? How many editions are there, and how much do they cost? Now that Office 2013 and the new Office 365 subscription plans are available to the public, we've updated our FAQ to address these frequently asked questions and more. Hopefully after reading this, you can stop scratching your head.
1. What's the difference between Office 365 and Office 2013?
First announced in 2010 to mainly target businesses, the 'old' Office 365 consists of hosted, online versions of Microsoft Server products, such as SharePoint Online, Exchange Online, and Lync Online. It's subscription-based, with different monthly plans based on the size of the business (that is, number of licences needed), and the number of features selected. In addition to the cloud-based services, Office 365 subscription plans can also include a subscription to the desktop applications.

On the other hand, think of Office 20XX as your traditional, locally installed desktop version of the Office suite. There's no need to pay any subscription fees; you pay once, and the licence lasts forever. Similar to past releases, apps in the new Office 2013 suite have a year designation in their nameplates, such as Word 2013, Excel 2013, PowerPoint 2013, Outlook 2013, and so on.

The big change this time round is that Microsoft is hoping that most users would get Office through an Office 365 subscription, instead of going the boxed copy route. Along with the various Office 2013 box editions, the Redmond-based software and services giant has also devised four new Office 365 subscription plans, one of which being the RM250/year (or RM25/month) Office 365 Home Premium that targets households. This plan allows Office to be used on up to five PCs or Macs (in any combination) and five mobile devices for all users in one household.

Put another way, you can get the Office 2013 desktop apps via two ways: subscribe to a new Office 365 subscription plan or buy a boxed edition of Office 2013. There are several advantages to the former, which we'll explain more below.

The other three known versions of Office 365 at this point in time are Office 365 Small Business Premium

, Office 365 ProPlus, and Office 365 Enterprise that cater to businesses.

2. What are the benefits of getting Office 365 Home Premium?
Office 365 Home Premium allows you to use Office on up to five computers (any combination of PCs and Macs) and five mobile devices shared among all users in the household. One nice thing is you change the five devices at any time. For PC users, you get all the Office apps: Word, Excel, PowerPoint, OneNote, Outlook, Access, and Publisher. Mac users get the same apps, with the exception of OneNote, Access, and Publisher.

The new version of Office is also connected to the cloud. Whether you choose to subscribe or buy a perpetually-licensed edition, through your Microsoft account, you get to enjoy the convenience of online document storage and sharing. Besides the 7GB of storage space you get when signing up for a Microsoft account, Office 365 Home Premium will land you (the subscriber) an additional 20GB of storage space on SkyDrive, Microsoft's cloud service for storing just about anything, from your documents and multimedia content, to templates and system preferences. Unfortunately, you can't distribute the 20GB to your other family members. Also, you get 60 minutes worth of Skype talk time every month. This covers landlines in over 40 countries and mobile phones in seven countries.

Another great feature that only Office 365 subscribers get is Office on Demand. Need to run Excel on a friend's Windows 7 or Windows 8 PC that doesn't have the app installed? Just stream the application over. Of course, that doesn't mean you can gift an Office app to your friend – when you close the app, it'll be removed from the PC.

Realize too that with an Office 365 subscription, your Office apps are always kept up to date automatically with the latest features and services, compared to just maintenance updates for the one-time payment, perpetually-licensed versions.
3. What if I run a small business with 10 employees?
Organizations with one to ten employees can consider Office 365 Small Business Premium. In addition to all the apps in Office 365 Home Premium, Office 365 Small Business Premium includes Microsoft Lync, an enterprise instant messaging software. Each user can install Office on up to five PCs or Macs.

Office 365 Small Business Premium also comes with a 25GB Outlook mailbox, shared calendar, contact manager, scheduling and task-list tools, 10GB cloud drive plus 500MB for each user, as well as the ability to host online meetings and even a website.

Note too that Office 365 Home Premium isn't meant for commercial use.
4. What if I use a Mac or an iOS device?
An Office 365 subscription will land you the relevant Office apps for your devices. However, since there's no new Office for Mac yet, when you subscribe to an Office 365 plan now, what you'll get is Office for Mac 2011, which has been out for a couple of years as a perpetually-licensed edition (at the moment, this is still available for purchase). Unfortunately, besides the absence of OneNote, Publisher, and Access for the Mac, many new technologies like Click-to-Run and Office on Demand are also not available for Office for Mac.

For existing Office for Mac 2011 users, a new version 14.3.0 update is now available. Besides bug fixes for Outlook and PowerPoint, this update adds support for Office 365.

While a new major version of Office for Mac is in the works, it won't be shipping any time soon. Our guess is that it'd take at least another 18 months. It's also anyone's guess if there will be an Office for iOS. Presumably, the current OneNote app for iOS and Android devices will be updated soon.
5. I'm a poor student. Is there any Office 365 subscription plan for me?
For students, faculty, or staff in institutions of higher learning (such as colleges and universities), there's a subscription plan called Office 365 University. This four-year subscription plan is priced at RM219.99, which works out to slightly over RM4.50 per month. If you're a student, there's a verification process to determine your eligibility. The difference in the number of installations permitted aside (two PCs or Macs), Office 365 University gets you the same benefits as Office 365 Home Premium (use on mobile devices, Skype world minutes, additional 20GB SkyDrive storage, Office on Demand, version upgrades), but at a much lower cost.

Alas, one can't remain a student forever.
6. What are the prices of Office 2013 and Office 365?
Here's a list of the different consumer SKUs for the new Office 2013 and Office 365:
New Office Consumer SKUs at a Glance
Office.com Price
Monthly Renewal Option
No. of Devices
Apps
Office Home & Student 2013
Retail: RM349
Online: RM339.99
N/A
1 PC
Word, Excel, PowerPoint, OneNote
Office Home & Business 2013
Retail: RM889
Online: RM869.99
N/A
1 PC
Word, Excel, PowerPoint, OneNote, Outlook
Office Professional 2013
Retail: RM1,579
Online: RM1,499.00
N/A
1 PC
Word, Excel, PowerPoint, OneNote, Outlook, Publisher, Access
Office 365 Home Premium
Retail: RM259 (for 1 year)
Online: RM249.99/year
RM24.99
5 PCs or Macs + 5 mobile devices (1 household)
Word, Excel, PowerPoint, OneNote, Outlook, Publisher, Access
Office 365 University
Retail: RM249 (for 4 years) Online:RM219.99/4-year
N/A
2 PCs or Macs + 2 mobile devices (1 user)
Word, Excel, PowerPoint, OneNote, Outlook, Publisher, Access
*OneNote, Publisher, and Access available on PC only.
Note that Office 365 Home Premium will be available in both physical and online stores across 162 markets worldwide. A free 30-day trial will be available online. And as far as we know, Office 365 Small Business Premium will also be available in both physical and online stores across 86 markets worldwide for an annual subscription fee of US$149.99 per user (this works out to be about US$12.50 per user per month), and a free 30-day trial will be available online.
The other Office 365 business and Office 2013 pro offerings will be announced on February 27, 2013.
7. So, of all the different editions, you'd recommend Office 365 Home Premium?
The answer to this question is obvious: It depends.
For home users, the RM250/year Office 365 Home Premium plan does indeed look to be a very attractive proposition. And this becomes even more so as Microsoft makes the licensing terms of the locally installed, perpetually-licensed versions of Office Home & Student 2013, Office Home & Business 2013, Office Standard 2013, and Office Professional 2013 tougher, and increases their prices by at least 10% compared to their predecessors. For example, Office Home and Student 2010 had a RM358 package that lets you install it on three PCs in a single household; but Office Home & Student 2013 doesn't. If you want to install Office Home & Student 2013 on three PCs, you've to buy three copies at RM340 each.
Let's do the math from another angle: Say you were to subscribe Office 365 Home Premium for five years for RM1,250 (RM250 x 5), you still save more than getting five copies of Office Home & Student 2013 for RM1,700 (RM340 x 5). And remember, you don't get Outlook, Publisher, and Access in Office Home & Student 2013, so it's advantage Office 365 if you use any of these apps.
Of course, Office 365 Home Premium makes the most sense if you've a household of five. If you only want Office for a single PC, you can still buy traditional, device-based, perpetually-licensed versions of the Office suite, as detailed in the table above. Like the Office 365 plans, these offerings also allow you to save documents to SkyDrive.
8. What if my need is even simpler, and I just want one particular Office 2013 app?
Interestingly, over at Office.com, you can also find individual Office 2013 apps for sale. Word, Excel, PowerPoint, Outlook, Publisher, and Access cost RM429.99 each, while OneNote itself costs RM279.99. Unless one desperately needs Outlook, Publisher, or Access, which are available only in the higher-priced editions, we don't see many people paying such money just to get a single app.
9. What is this Office Home & Student 2013 RT?
There's a version of Windows 8 for ARM-based devices called Windows RT. On these devices, Microsoft will ship a version of Office called Office Home & Student 2013 RT for free. It consists of the following apps: Word 2013 RT, Excel 2013 RT, PowerPoint 2013 RT, and OneNote 2013 RT. For the most part, it's a fully featured Office with complete document compatibility, and looks-wise, the apps are very similar to their non-RT counterparts.
That said, to fulfill security, reliability, and battery life requirements of Windows RT devices, some features have to go in Office for Windows RT. For example, it lacks macros, add-ins, and features that rely on ActiveX controls, certain legacy features such as playing of older media formats in PowerPoint, and certain email sending features (Windows RT doesn't support Outlook or any other desktop mail app). You also can't create a Data Model in Excel 2013 RT, and record narrations in PowerPoint 2013 RT. And in OneNote 2013 RT, you can't search for embedded audio/video files, record audio/video notes, and import from an attached scanner.
It's worth pointing out that at the early stages when Windows RT devices first went on sale, they were pre-installed with a preview edition of Office Home & Student 2013 RT. If you're an early adopter and have this preview edition, it'll be updated automatically via Windows Update. You can also do the update manually by accessing Windows Update through Control Panel.
There's a very good FAQ about Office Home & Student 2013 RT from Microsoft here.
10. Are there any Modern-style Office apps for Windows 8/RT?
While the Office 2013 apps sport the Modern look and feel, they're still desktop apps and they run in the desktop environment. There are however two Modern-style, Windows Store apps that Microsoft has put out that will run on both Windows 8 and Windows RT: OneNote
and
Lync. Both apps are redesigned with immersive touch capabilities throughout, and are available for free in the Windows Store.
11. Oh dear, I just bought Office 2010! Can I get an upgrade?
Starting from October 19, if you've bought Office 2010 (for PC) or Office for Mac 2011, you're entitled to a free upgrade to an equivalent Office 2013 offering, or one year of Office 365 Home Premium. Small business customers will also get a three-month trial of Office 365 Small Business Premium.
12. Do I need Windows 8 to run Office 2013?
The new Office requires that you run either Windows 7, Windows 8, Windows Server 2008 R2, or Windows Server 2012. Of course, you need Windows RT to run Office Home and Student 2013 RT. Obviously, to use features such as SkyDrive and Office on Demand, an Internet connection is also required.
Here are the system requirements for Office 2013 for PCs:
Office 2013 System Requirements

| | |
| --- | --- |
| CPU | 1GHz or faster x86 or x64-bit CPU with SSE2 instruction set; For Mac, an Intel CPU |
| RAM | 1GB (32 bit); 2GB (64 bit) |
| HDD | 3GB available disk space; For Mac, 2.5GB (HFS+ format) |
| Display | 1,024 x 576-pixel resolution or higher |
| Graphics | Graphics hardware acceleration requires DirectX10 graphics card |
| O/S | Windows 7, Windows 8, Windows Server 2008 R2, or Windows Server 2012; Mac OS X 10.5.8 or later |
| Browser | Microsoft Internet Explorer 8, 9, or 10; Mozilla Firefox 10.x or later; Apple Safari 5; Google Chrome 17.x |
| .NET Version | 3.5 or later |
| Multi-touch | Requires at least Windows 7 and a touch-enabled device |
*There may be additional hardware or server connectivity requirements for specific components and features of Office 2013. For more info, check out this TechNet article.
13. Can I try the new Office before buying?
Previously, you can sign up for the Office 365 Home Premium Customer Preview here
. But with the official release of Office 365 Home Premium, you'll now be directed to
sign up for a free 1-month trial. Remember to have your credit card details and Microsoft account login credentials on hand before signing up. It's important to note that you'll be charged automatically after the first calendar month, and then again on a monthly basis. If you don't want that to happen, you should cancel online before the end of the trial period.

The trial can run alongside Office 2010, Office 2007, and Office 2003. By default, the 32-bit version of Office is installed, but you can change it through your Office account. Here is also where you manage Office deactivations, new installations, and subscription cancellations.

Like Office on Demand, the Office 2013 installer uses Microsoft's Click-to-Run virtualization and streaming technologies. It'd install the essential components first, so that you can get Office up and running as soon as possible. Then, it'd continue to install the other parts in the background. And make sure that you've at least 3.5GB of free disk space before installing the trial.
14. Okay, I'm sold. Where can I buy the new Office?
Boxed copies of Office 2013 and Office 365 subscriptions will be available at authorized retailers across 162 countries, as well as online at Office.com.
references by http://adf.ly/IYuTZ
Dibaca sebanyak : 18131 Kali
Facebook Feedback
My Social-Net Accounts, You can Follow.. mungkin suatu hari nanti kita berjodoh (‾⌣‾)♉
online user
Follow @agunkzscreamo
GUNAKAN KOTAK PENCARIAN DIATAS, JIKA ARTIKEL / FILE YANG KALIAN CARI TIDAK DITEMUKAN. Masukan Kata/Keyword
Pengunjung Blog yang baik adalah ia menyempatkan waktunya untuk memberikan LIKE/men-SHARE/meninggalkan TESTI/KOMENTAR. Berbagi ILMU & PENGETAHUAN kepada orang lain akan lebih bermanfaat, daripada hanya disimpan untuk kita sendiri :)

DAFTAR / LOGIN MENGGUNAKAN FACEBOOK, KUMPULKAN DOLAR DARI INTERNET

JIKA ANDA MEMPUNYAI DANA BERLEBIH DAN DIRASA BLOG SAYA BERGUNA, ANDA BISA BERDONASI AGAR BLOG INI LEBIH BAIK LAGI, KLIK GAMBAR DIBAWAH DETAILNYA

Kami Menjual & Menyediakan Kaset CD DVD KALI LINUX, Windows XP, Windows 7, Windows 8,Windows 8.1, Adobe Photoshop & seri lainnya, CorelDraw, Microsoft Office, Linux (Backtrack 5 R3 , Linux Red Hat, Ubuntu, Linux Mint, Linux Fedora, dll), sistem operasi maupun Software-Software LAMA maupun TERBARU Lainnya (KLIK DISINI) !!

Jual FLASHDISK INSTALLER WINDOWS XP, WINDOWS 7, WINDOWS 8, WINDOWS 8.1 DAN LINUX TERBARU (KLIK DISINI)

My Yahoo Messenger


Follow AGUNKz scrEaMO Tech.
AGUNKz scrEaMO on g+
Jual Ebook Murah Jasa Pembuatan Blog/Web
Tweet Favorit oleh @A_BlogWeb
ADS & Sponsor
tertarik memasang Banner Iklan DI BLOG INI, Mention or Send Me Message on FACEBOOK AND TWITTER :)
UPGRADE KE FIREFOX TERBARU UNTUK KEAMANAN DAN KENYAMANAN SAAT BROWSING ;)
Posting Terbaru Lainnya
Last Visitors
Jumlah Pengunjung (by UNIQUE IP ADDRESS)
TRANSLATOR
Pengenalan
I ♥ PARAMORE \m/▐▐▐

Knowledge is for FREE

Orang-orang lebih khawatir dan takut jika Bumi ini Kiamat, PADAHAL Kiamat terbesar adalah ketika jantungmu berhenti berdetak, sehingga tidak dapat mengumpulkan pahala, melakukan shalat & sujud kepada Allah SWT...

Takutlah ketika panca indra/ hatimu biasa-biasa saja saat mendengarkan Adzan dikumandangkan & tidak segera melaksanakan shalat,
atau mata hati sudah dibutakan & biasa saja saat membaca peringatan serta melanggar yg sudah tertulis di Al-Quran.
bisa jadi kamu termasuk orang yg dibiarkan "tersesat" di dunia & akhirat.
Kategori
Alexa Rank