Cara Mengembalikan Tampilan Facebook Lama / Disable Facebook Timeline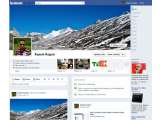 THIS IS FOR DEVELOPER PREVIEW
Step 1: Head to the Facebook Developers page where you originally created an app to enable Timeline. Click "Edit app."
(Credit: Screenshot by Sharon Vaknin/CNET)
Step 2: The only way to remove Timeline is to delete the app. If you are an actual developer, you're out of luck. Otherwise, click "Delete app" in the left sidebar.
(Credit: Screenshot by Sharon Vaknin/CNET)
(Credit: Screenshot by Sharon Vaknin/CNET)
Once you confirm the app deletion, your Facebook Timeline will be disabled.
GOOD LUCK :)
UPDATE 18 DECEMBER 2011
You will not be able to delete the facebook timeline and get back to the old facebook design
. This is totally disappointing and hope facebook will consider bringing an option to let users choose old facebook or new facebook timeline design as per they wish.
Facebook has introduced Timeline, one of the great feature to easily navigate your life at Facebook. Whatever the events you have recorded as Status Updates, Pictures, Videos and Events will become easily accessible through the Facebook Timeline with Month, Year navigation. The Facebook Timeline Developer Preview was demonstrated by Mark Zuckerberg, during previous f8 conference.

Though it looks interesting and an amazing feature for many, people still dont like the sudden changes that facebook gives before getting familiar with the current service. This frequent change in design and features makes many users to find it difficult to understand and use it well.


The official news came out today, that Facebook will force activate the Timeline to all facebook users on December 22nd, 2011. The announcement is visible only for people who visit their facebook profile page that is not using developer preview of timeline feature. Whats your take on this ? Is this fine that Facebook is forcing certain design changes to all its users in short period of time after the previous design modification ? Do express your views in comments.
reference: howto.cnet.com, dailytut.com
update 29 December
So, what is the new trick ? apparently Facebook timeline has a problem dealing with old web browsers, and most specific Internet Explorer 7, it means if you are using internet explorer 7 to login to your Facebook you won't see the timeline because you will be switched to old profile. So, if we can find a way to tell Facebook that we are using internet explorer 7 browser agent, automatically without modifying anything in your profile or disable anything, you will have access back again to your classic old profile.

But, how we will able to do that right ? and we also don't like to use old browser as well, because new browsers are secure and with more function. So, we need to stay with our browser the current browser we are using for me Mozilla Firefox, but we have to let Facebook know that we are using Internet Explorer 7.

So, the trick is without using old dated browser we will change our user-agent and able go back to our old profile.
Please before you continue to read this aritcle i would like to be specific that this is just a workaround, i can not sure you that how long this trick will going to work. As we still couldn't find any solution we just made a trick so that without disable the timeline we will able to use the old profile.
So, here i am going to share three ways in which you can do this, so just chose whatever is easier for you.My recommendation would be using Safari because that will be more easier to do.
How to disable Facebook timeline on Firefox Trick
Step 1:
While in Firefox click the
Orange Firefox
button and add-ons.
Step 2:
In the search box on the top-right corner do a search for "
User Agent Switcher
", when you see it, click
Install
and then restart Firefox to complete the installation.
Step 3:
If you don't see the plugin's icon in the navigation bar, right-click the navigation bar and select
Customize
.
Step 4:
Look for the plugin button and drag & drop to the navigation bar.
Step 5:
Now, just click the
User Agent Switcher
button and navigate through
Internet Explorer
and select
Internet Explorer 7
.
Step 6:
Finally go to Facebook.com and log-in to your profile and you should be seeing your old profile.
Important: Don't forget to get back to defaults once you are done using Facebook by click the User Agent Switcher button and choosing Default User Agent to avoid other websites from displaying incorrectly.


How to disable Facebook Timeline on Safari
Step 1:This is pretty simple, if you don't have Safari installed in your system go to this page – http://www.apple.com/safari/download/

, download the

latest version

of

Safari web browser

and install it.
Step 2:
Then launch Safari, click the
Alt
key to bring up all the menus.
Step 3:
Go to
Develop
, navigate
User Agent
and select
Internet Explorer 7.0
.
Step 4:
Visit your Facebook profile and the classic profile should now be there.
Important: To go back to the default settings, simply restart the web browser.



How to disable Facebook Timeline on Google Chrome
Using Google Chrome can be a little bit challenging for some users, but it is not impossible.
If you are not willing to manually go back and forth with this method, I would recommend you to first manually create a Google Chrome profile and use it just to access Facebook.
Step 1:
Go to
Start
, windows start button, do a search for
Chrome
and from the results right-click
Google Chrome
and select
Properties
.
Step 2:
In the
Target
field, append the following at the end of the path that is already there (add a space between chrome.exe and the following line):
  --user-agent="--user-agent="Mozilla/4.0 (compatible; MSIE 7.0; 

Windows

 NT 6.0)" 
After you append the above line the Target field should look something like this:
  C:\Users\your-username\AppData\Local\Google\Chrome\Application\chrome.exe 
  --user-agent="Mozilla/4.0 (compatible; MSIE 7.0; Windows NT 6.0)" 
  Step 3: When you finish, click Apply and then click OK. 
Step 4:
Restart Google Chrome and log-in to your Facebook account and the old profile should be there.
How to disable Facebook Timeline on Internet Explorer 7
well for internet explorer 7 there is no trick, because you if you login to Facebook using internet explorer 7 you will be automatically redirect to old facebook profile.
Warning: There is a chance that your Facebook profile may not display 100% correctly, but it still works and it is worth trying.
Remember: If you face any problem using the trick let me know through the comments,
I am not sure how long this trick will work, but for now it is working fine.
If you like the trick and if it works for you, please let your friends know, share this page with your friends in Facebook and twitter using our left share box.
reference by: shaileshtripathi.in
UPDATE 25 JANUARY 2012
Ready or Not, You're Getting Facebook Timeline
Facebook announced in a blog post Tuesday that Timeline will be coming to all users in the next few weeks.

According to a Facebook blog post Tuesday — or rather, an update to the post published when Timeline became available to all users — you will have seven days to preview your Timeline and hide content you don't want out in the open.

Facebook says you'll receive a notification at the top of your home page when Timeline has landed in your account. That seven-day preview period is the same for users who activate Timeline and those whose accounts are activated automatically.

The new interface and features have been opt-in, and will continue to be until the roll out becomes universal. Beginning in December 2011, users could enable the new look with one click, and then publish their Timelines for their friends to see.

Those particularly eager for the new Facebook could first access Timeline in September 2011 by creating developer accounts.

If you're confused by the new look, Facebook describes its new product, "Timeline gives you an easy way to rediscover the things you shared, and collect your most important moments. It also lets you share new experiences, like the music you listen to or the miles you run." Facebook's Introducing Timeline page walks new users through the new features, such as covers, stories and app integration.

Once you've gotten the new interface, here's how you can fill in your Timeline:
source: mashable
Dibaca sebanyak : 16587 Kali
Facebook Feedback
My Social-Net Accounts, You can Follow.. mungkin suatu hari nanti kita berjodoh (‾⌣‾)♉
GUNAKAN KOTAK PENCARIAN DIATAS, JIKA ARTIKEL / FILE YANG KALIAN CARI TIDAK DITEMUKAN. Masukan Kata/Keyword
Pengunjung Blog yang baik adalah ia menyempatkan waktunya untuk memberikan LIKE/men-SHARE/meninggalkan TESTI/KOMENTAR. Berbagi ILMU & PENGETAHUAN kepada orang lain akan lebih bermanfaat, daripada hanya disimpan untuk kita sendiri :)


JIKA ANDA MEMPUNYAI DANA BERLEBIH DAN DIRASA BLOG SAYA BERGUNA, ANDA BISA BERDONASI AGAR BLOG INI LEBIH BAIK LAGI, KLIK GAMBAR DIBAWAH DETAILNYA

Kami Menjual & Menyediakan Kaset CD DVD KALI LINUX, Windows XP, Windows 7, Windows 8,Windows 8.1, Adobe Photoshop & seri lainnya, CorelDraw, Microsoft Office, Linux (Backtrack 5 R3 , Linux Red Hat, Ubuntu, Linux Mint, Linux Fedora, dll), sistem operasi maupun Software-Software LAMA maupun TERBARU Lainnya (KLIK DISINI) !!


Jual FLASHDISK INSTALLER WINDOWS XP, WINDOWS 7, WINDOWS 8, WINDOWS 8.1 DAN LINUX TERBARU (KLIK DISINI)
My Yahoo Messenger

AGUNKz scrEaMO on g+
Jual Ebook Murah Jasa Pembuatan Blog/Web
Tweet Favorit oleh @A_BlogWeb
ADS & Sponsor
tertarik memasang Banner Iklan DI BLOG INI, Mention or Send Me Message on FACEBOOK AND TWITTER :)
UPGRADE KE FIREFOX TERBARU UNTUK KEAMANAN DAN KENYAMANAN SAAT BROWSING ;)
Posting Terbaru Lainnya
Last Visitors
Jumlah Pengunjung (by UNIQUE IP ADDRESS)
LOKASI Pengunjung Terakhir
Posting Terakhir Dikunjungi
AGUNKz FLAG COUNTER
POLLING
TRANSLATOR
Pengenalan
I ♥ PARAMORE \m/▐▐▐

Knowledge is for FREE

Orang-orang lebih khawatir dan takut jika Bumi ini Kiamat, PADAHAL Kiamat terbesar adalah ketika jantungmu berhenti berdetak, sehingga tidak dapat mengumpulkan pahala, melakukan shalat & sujud kepada Allah SWT...

Takutlah ketika panca indra/ hatimu biasa-biasa saja saat mendengarkan Adzan dikumandangkan & tidak segera melaksanakan shalat,
atau mata hati sudah dibutakan & biasa saja saat membaca peringatan serta melanggar yg sudah tertulis di Al-Quran.
bisa jadi kamu termasuk orang yg dibiarkan "tersesat" di dunia & akhirat.
Kategori
Alexa Rank