Facebook, Anonymous Hacker Target on Nov. 5 ?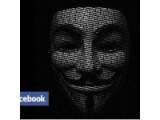 Anonymous a group of hacker activists, have made a mysterious career out of big game hunting. The group, or hackers purporting to be part of Anonymous, have previously attacked targets such as Bank of America, Sony and even government sites. Now, the group may be targeting Faceb ook on Nov. 5.
The bad news is Anonymous is probably good enough to take down the social network, if only for a brief while, if they felt like it. The good news — for Facebook fans — is that the group frequently uses threats and warnings as a way to get people thinking about their targets without actually diving in. Facebook is now a target for abusing user privacy.
There was a mild buzz around the Internet about Nov. 5 as a potential Facebook attack date. Nov. 5 corresponds to Guy Fawkes Day, a UK holiday celebrating the failed plot by a crew of conspirators, including Guy Fawkes, to blow up British Parliament in 1605 and kill King James I. The holiday is supposed to celebrate the saving of the King's life, but in recent years, it seems the revelry now favors Guy Fawkes and the idea of speaking truth (or gunpowder) to power. Fawkes was later popularized in the graphic novel-turned-movie V for Vendetta, which introduced a highly stylized Fawkes mask worn by rebels and revelers.
Anonymous seems to have dropped the Facebook attack, nicknamed "OP_FB." There is little recent action on their Twitter account and there have been no new or significant statements specifically targeting Facebook. Instead, Anonymous is turning its attention to more public-friendly targets such as disrupting child pornography sites and threatening to attack the Zeta Mexican drug cartel (Anonymous has since backed down from the latter).
As of Nov. 3, PiratePad.net — a kind of Anonymous open forum — included a post saying:
Ideas for OP_FB:
Post ideas here guise. We are more powerful than DDoS attacks, and facebook isn't going to keel over from something so small. We have more power than this and we should utilize it.
However, this seems more like brainstorming than a concerted attack. Even if Anonymous doesn't decide to attack the world's most popular social network, the threat itself certainly makes you think about just how much information Facebook owns and what its doing with our personal privacy.
reference: Mashable
Dibaca sebanyak : 3735 Kali
Facebook Feedback
My Social-Net Accounts, You can Follow.. mungkin suatu hari nanti kita berjodoh (‾⌣‾)♉
online user
Follow @agunkzscreamo
GUNAKAN KOTAK PENCARIAN DIATAS, JIKA ARTIKEL / FILE YANG KALIAN CARI TIDAK DITEMUKAN. Masukan Kata/Keyword
Pengunjung Blog yang baik adalah ia menyempatkan waktunya untuk memberikan LIKE/men-SHARE/meninggalkan TESTI/KOMENTAR. Berbagi ILMU & PENGETAHUAN kepada orang lain akan lebih bermanfaat, daripada hanya disimpan untuk kita sendiri :)

DAFTAR / LOGIN MENGGUNAKAN FACEBOOK, KUMPULKAN DOLAR DARI INTERNET

JIKA ANDA MEMPUNYAI DANA BERLEBIH DAN DIRASA BLOG SAYA BERGUNA, ANDA BISA BERDONASI AGAR BLOG INI LEBIH BAIK LAGI, KLIK GAMBAR DIBAWAH DETAILNYA

Kami Menjual & Menyediakan Kaset CD DVD KALI LINUX, Windows XP, Windows 7, Windows 8,Windows 8.1, Adobe Photoshop & seri lainnya, CorelDraw, Microsoft Office, Linux (Backtrack 5 R3 , Linux Red Hat, Ubuntu, Linux Mint, Linux Fedora, dll), sistem operasi maupun Software-Software LAMA maupun TERBARU Lainnya (KLIK DISINI) !!

Jual FLASHDISK INSTALLER WINDOWS XP, WINDOWS 7, WINDOWS 8, WINDOWS 8.1 DAN LINUX TERBARU (KLIK DISINI)

My Yahoo Messenger


Follow AGUNKz scrEaMO Tech.
AGUNKz scrEaMO on g+
Jual Ebook Murah Jasa Pembuatan Blog/Web
Tweet Favorit oleh @A_BlogWeb
ADS & Sponsor
tertarik memasang Banner Iklan DI BLOG INI, Mention or Send Me Message on FACEBOOK AND TWITTER :)
UPGRADE KE FIREFOX TERBARU UNTUK KEAMANAN DAN KENYAMANAN SAAT BROWSING ;)
Posting Terbaru Lainnya
Last Visitors
Jumlah Pengunjung (by UNIQUE IP ADDRESS)
TRANSLATOR
Pengenalan
I ♥ PARAMORE \m/▐▐▐

Knowledge is for FREE

Orang-orang lebih khawatir dan takut jika Bumi ini Kiamat, PADAHAL Kiamat terbesar adalah ketika jantungmu berhenti berdetak, sehingga tidak dapat mengumpulkan pahala, melakukan shalat & sujud kepada Allah SWT...

Takutlah ketika panca indra/ hatimu biasa-biasa saja saat mendengarkan Adzan dikumandangkan & tidak segera melaksanakan shalat,
atau mata hati sudah dibutakan & biasa saja saat membaca peringatan serta melanggar yg sudah tertulis di Al-Quran.
bisa jadi kamu termasuk orang yg dibiarkan "tersesat" di dunia & akhirat.
Kategori
Alexa Rank