FREE Download: Android and Ubuntu Themes for Windows 7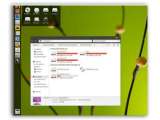 Here are 7 very nice Android, Ubuntu and Linux Windows 7 themes that can make Windows 7 look like Ubuntu, Android OS or other Linux distributions.
The following themes can turn your Windows 7 into Ubuntu or Android OS. There's even a theme for Home Basic users, so check it out!
1. Ubuntu Windows 7 Theme
This is the 5.0 version of the Ubuntu theme that makes Windows 7 look like the latest Ubuntu versions.
Ubuntu 11.04 really looks awesome and has some awesome features. This theme will make it look similar.
Here's a screenshot of the old 3.0 version. Already looked a lot like Ubuntu. If you prefer the look of Ubuntu 10.10 you can of course download this Windows 7 theme:
3. Ubuntu Windows 7 ThemePack Complete – ColorScheme Like Ubuntu
HOT: Nice theme for Windows 7 Basic users. If you are from India running Home Basic, you can install this theme.
Ubuntu FreeStyle Se7en ThemePack Complete for Windows 7 (x32bit). Aero and Basic Themes. Adds a nice color scheme to Windows 7 and new Ubuntu wallpapers

Download Ubuntu ThemePack Complete | Mirror
4. Windroid 7 -Android Theme for Windows7 V3
This is a really cool Android Windows 7 theme that already looks very nice. If you're a fan of the Android OS, this can make Windows 7 look like Android.

Download Android Windroid V3 | Mirror
5. Honeycomb 7 V4 Android Theme for Windows 7
A blue Honeycomb theme – version 4 – for Windows 7

Download Android Honeycomb 7 V4 Windows | Mirror
6. Windows 7 Ubuntu Theme Mod FIXED
A nice Ubuntu theme for Windows 7 with some awesome Ubuntu wallpapers.

Download Ubuntu Win 7 Ubuntu Theme Mod FIXED | Mirror
7. Android Windows 7 Beta Theme
And another Android theme for Windows 7, but rather simple. Adds a few nice Android walls.

Download Android beta | Mirror
source: windows7th emes.net
UPDATE MARET 2012
ANDROID TRANSFORMATION PACKS FOR WINDOWS 7
the elements and then install them one by one.

Requirements
1. Must have Windows 7 Installed.
2. Minimum of 1 GB Ram Installed.
Steps to install the transformation pack
1. Download the transformation package according to system from below.
2. After Downloading Run the installer and than accept the terms and than follow the steps to install.
3. Package will automatically apply any patching needed so you don't have to worry about anything.
LINUX UBUNTU TRANSFORMATION PACKS FOR WINDOWS 7
Ubuntu Transformation Skin Pack
This will give your Windows 7 the appearance of Ubuntu operating system and will give you some of its functions too like multiple desktops and the beautiful Ubuntu bar with the awesome color of Ubuntu too.
Skin Packs installer have easy and safe install option , Please uninstall old or other version of skin packs before install new version. Before install disable user account controller and close all running program , after finish restart your system, you can uninstall Ubuntu transformation pack from the control panel like any program.
There are X86 and X64 types of Ubuntu Transformation Pack so choose the type that corresponding to you Windows 7 from the download page, it is made by deviantart member hameddanger .. his site.
Dibaca sebanyak : 32514 Kali
Facebook Feedback