NEW UPDATE: Notepad++ 6.1.6 2012 (for Windows XP, Vista, Windows 7 and Windows 8)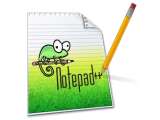 Notepad++ is a free source code editor (and Notepad replacement), which supports several programming languages, running under the MS Windows environment. This project, based on the Scintilla edit component (a very powerful editor component), written in C++ with pure win32 api and STL (that ensures the higher execution speed and smaller size of the program), is under the GPL Licence.
Notepad++ v6.1.6 enhancement and fixed bugs:
Changes in 6.1.6:
Fix (Walk around) Notepad++ hanging on CJK input with ANSI document while enabling word completion.
Enhance folding performance on large documents.
Check update without elevating to Administrator right.
Add update auto-detection for the environment vista/windows 7/Windows 8.
Fix bug: Doc switcher icon state not refreshed after '"save all" action.
Make Document map togglable via menu.
Enhance Find/Replace dialog result messages.
Fix a issue that "max number of recent files" cannot be set to 0.
Add font size 5, 6 and 7 in Style Configurator.
Dibaca sebanyak : 721 Kali
Rating : 1 Bagus, 0 Jelek
Facebook Feedback