Paramore Festival Indonesia 2011 (Pantai Carnaval Ancol, Jakarta)
Paramore Festival
PARAMORE FESTIVAL adalah rangkaian "Before Show Event" pertama di dunia, sebelum konser tunggal Paramore dilaksanakan bulan Agustus nanti di Bali dan Jakarta, Indonesia. PARAMORE FESTIVAL ini berlangsung hari Sabtu 25 Juni 2011, di Pantai Indah Ancol Jakarta, mulai jam 10 pagi.
Whoaaaa… This is an Emergency and please Feeling Sorry if you're not coming in!
Ada Battle of the Band, Graffiti Competition, Musical Fireworks, Charity Wall of Fame, Stands & Booths, Games & Quizzes, Chip Tune Performance, Mystery guest star, dan Lucky Draw buat dapetin Backstage Pass, Press Conference Pass, plus kesempatan buat Meet and Greet sama Paramore!
That's What You get on PARAMORE FESTIVAL!
Be there or be sorry…
Acara:
Band Battle Performances
Quiz and Games
Special Games by Kaskus FM and Kaskus Radio
Graffiti Competition
Booths (Tattoo, Photo, Merchandise, etc)
Charity Wall of Fame
Chip Tune Performance
Mystery Guest Star
Lucky Draw (Buy your Ticket at this event and Win Meet and Greet with Paramore!)
Musical Fireworks
SO BE THERE OR BE SORRY!
Paramore Live in Indonesia promoted by ShowMaxx Entertainment
This event fully supported by Station of Live Concert 105.9 ARDAN FM the Official Radio Station for Paramore Live in Indonesia.
UPDATE 29 JUNE 2011
Photo & Video From PARAMORE FESTIVAL ANCOL, Jakarta Indonesia 2011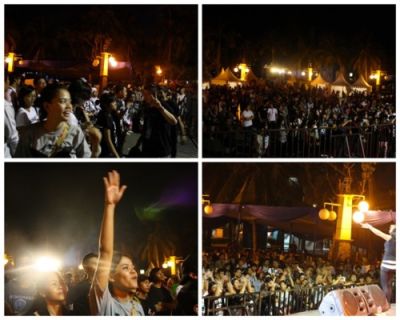 Quote From Tumblr Hayley Williams : "
one time i'd never been anywhere.
now i've been a lot of places but i've never seen anything like this.
i cried all the way through the fireworks during "Careful". this is totally humbling and inspiring. can't wait to see our indonesian family."
for VIDEO details visit: http://www.paramore.net/blog/140ffc-indonesia/
Sooo... Siapa aja yang sudah punya tiketnya.. \m/
jangan samapai agustus nanti gak dateng yaa..
Dibaca sebanyak : 4559 Kali
Rating : 2 Bagus, 0 Jelek
Facebook Feedback
My Social-Net Accounts, You can Follow.. mungkin suatu hari nanti kita berjodoh (‾⌣‾)♉
GUNAKAN KOTAK PENCARIAN DIATAS, JIKA ARTIKEL / FILE YANG KALIAN CARI TIDAK DITEMUKAN. Masukan Kata/Keyword
Pengunjung Blog yang baik adalah ia menyempatkan waktunya untuk memberikan LIKE/men-SHARE/meninggalkan TESTI/KOMENTAR. Berbagi ILMU & PENGETAHUAN kepada orang lain akan lebih bermanfaat, daripada hanya disimpan untuk kita sendiri :)


JIKA ANDA MEMPUNYAI DANA BERLEBIH DAN DIRASA BLOG SAYA BERGUNA, ANDA BISA BERDONASI AGAR BLOG INI LEBIH BAIK LAGI, KLIK GAMBAR DIBAWAH DETAILNYA

Kami Menjual & Menyediakan CD DVD KALI LINUX, Windows XP, Windows 7, Windows 8,Windows 8.1, Adobe Photoshop, CorelDraw, Microsoft Office, Linux (Backtrack 5 R3 , Linux Red Hat, Ubuntu, Linux Mint, Linux Fedora, dll), sistem operasi dan Software-Software LAMA maupun TERBARU Lainnya (KLIK DISINI) !!


Jual FLASHDISK INSTALLER WINDOWS XP, WINDOWS 7, WINDOWS 8, WINDOWS 8.1 DAN LINUX TERBARU (KLIK DISINI)
My Yahoo Messenger

AGUNKz scrEaMO on g+
Jual Ebook Murah Jasa Pembuatan Blog/Web
Tweet Favorit oleh @A_BlogWeb
ADS & Sponsor
tertarik memasang Banner Iklan DI BLOG INI, Mention or Send Me Message on FACEBOOK AND TWITTER :)
UPGRADE KE FIREFOX TERBARU UNTUK KEAMANAN DAN KENYAMANAN SAAT BROWSING ;)
Posting Terbaru Lainnya
Last Visitors
Jumlah Pengunjung (by UNIQUE IP ADDRESS)
LOKASI Pengunjung Terakhir
Posting Terakhir Dikunjungi
AGUNKz FLAG COUNTER
POLLING
TRANSLATOR
Pengenalan
I ♥ PARAMORE \m/▐▐▐

Knowledge is for FREE

Orang-orang lebih khawatir dan takut jika Bumi ini Kiamat, PADAHAL Kiamat terbesar adalah ketika jantungmu berhenti berdetak, sehingga tidak dapat mengumpulkan pahala, melakukan shalat & sujud kepada Allah SWT...

Takutlah ketika panca indra/ hatimu biasa-biasa saja saat mendengarkan Adzan dikumandangkan & tidak segera melaksanakan shalat,
atau mata hati sudah dibutakan & biasa saja saat membaca peringatan serta melanggar yg sudah tertulis di Al-Quran.
bisa jadi kamu termasuk orang yg dibiarkan "tersesat" di dunia & akhirat.
Kategori
Alexa Rank